A good support team can make a huge difference. Leaders of the support teams are advised to attend the briefings organised by Oxfam.
Support under the COVID-19 pandemic
Due to COVID-19, three or four members are suggested for each support team to keep appropriate social distancing.
When providing support to teams, maintain social distance and wear a mask. Cover your nose and mouth with tissue paper when sneezing or coughing. Do not spit or litter. Use tissue paper to hold your spit. Dispose of the soiled tissues into a lidded rubbish bin, and then wash hands thoroughly.
Avoid touching animals (including wild pig, monkey, poultry / birds or their droppings)
Provide foods that are convenient to eat (such as rice ball, bread or potatoes), when preparing the food, please keep your hands clean. Do not share food with others with the same utensils to avoid cross infection.
Always keep your hands clean after you have any body contact (e.g providing massage, changing clothes or toweling off to the walkers etc.) with the walkers.
Keep contact with the walkers to have a better estimation of their arrival times to the checkpoints to avoid waiting long at the checkpoints.
If you have a fever or respiratory symptoms, do not provide support and seek medical advice as soon as possible.
The Role and Mentality of the Support Team
The support team is there not only to provide support to trailwalkers, but also complete the 100 km with the 4 registered participants; making Oxfam Trailwalker even more  so a "Team event".
Support teams should be helpful, positive, patient, flexible, keep calm and take initiative to handle any emergencies. They should adjust their mentality, expectations and actions to work with participants in completing the route. Having prior experience in Trailwalker would be ideal.
Three to five members are good as support teams. Except food and clothes for participants, support teams are needed to be photographers, masseuses, psychological counselors, timekeepers, escorts, etc.
A good plan and communication are the way to success
Support team members should familiarise themselves with the trail beforehand. Prior to the event, walkers and their support teams should survey all support points to ensure they know exactly where to meet.
You should have a map showing the precise locations of the CPs and a timetable showing your team's estimated time of arrival at each CP. (Please refer to P.47 for the Suggested Timetable for Walkers section.) You can also refer to the Oxfam Trailwalker online tracking system for teams' last arrived checkpoint.
Mobile phones make communication easier between teams and support teams. Test the reliability of the phones before the event as transmission signals may be weak in some areas. Try to use text messages in these areas.
Keep in close contact with the walkers during the event. To avoid traffic congestion, you should arrive at CPs not more than 30 minutes before the estimated arrival time of your team.
Plan what you will carry (please refer to 41 "Suggested Checklist"). We suggest that walkers avoid drinking alcohol during the event or at the Finish Point as they might have an allergic reaction after having walked for hours.
Keep yourself safe to be able to give the best help on the trail
CPs can be very cold at night. Wear warm clothes. Bring a torch and be prepared to wait. Some CPs can be very crowded, so please be patient.
It is also important that support team members have sufficient food and drink as well as other essentials if they wish to accompany the participating team to walk for a certain section. Please avoid blocking other participating teams on the trail and give way to other teams when appropriate.
For the sake of fairness, support teams are not allowed to provide any physical assistance to participants, such as pushing the participants forward.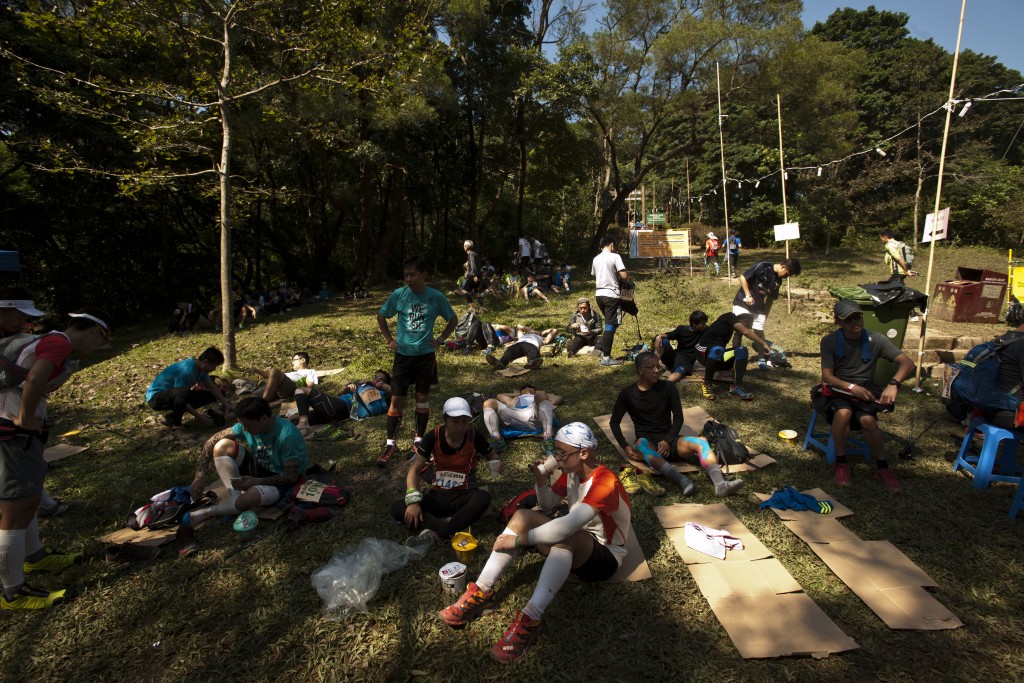 Green Trailwalker together
Support teams can join "Green Trailwalker" together to reduce using disposable cutlery or utensils; prepare an accurate quantity of food to avoid leftovers.
Support teams should discard trash at refuse collection points and should not leave any items including leftover foods at support points. You are also welcome to place trash into recycle bins / recycle bags at Checkpoints if available. Please keep the area clean.
Traffic arrangement at Checkpoints
The number of support team members and cars have increased in recent years. While it is good to see growing support for the event and its participants, we have received complaints about the inconvenience large crowds have brought to villagers and other people on the trail. Therefore, we strongly urge support teams to avoid driving to checkpoints. The cooperation and support of everyone is crucial to enabling all walkers to complete the trail.
Please try to use public transport where possible. Parking has become a problem as the event has grown. The police will not make exceptions for Oxfam Trailwalker support teams when issuing tickets for illegal parking. If you will be driving, please remember to leave plenty of time to allow for traffic jams, and be prepared to park some distance away from the CPs and walk the rest of the way.
A free shuttle service will be provided at the following locations:

Between the Start Point at Pak Tam Chung and CP2 from noon to 22:00, 29 January.
Between the Tsuen Wan MTR Station to CP8 from 16:00, 29 January to 23:00, 30 January.
Between the Finish Point and Yuen Long from 07:00, 30 January to 07:00, 31 January (To Be Continued)

During the event, temporary traffic control will be implemented at the Start Point, CP2, 3, 4, 6, 8 and the Finish Point. Support teams driving to CPs should read the 'Checkpoints' section (P.35-38) carefully, especially regarding the parking arrangement at the Finish Point. You can also refer to the 'Event' > 'Trail & Checkpoints' section on the Oxfam Trailwalker website for more details. Please also be reminded to switch off the vehicle engine while waiting to reduce emissions.
Important note
Some CPs are located in country park areas where private cars are not allowed. All support teams must use public transport and follow the country parks regulations. For details, please visit www.legislation.gov.hk/eng/home.htm and refer to 'Chapter 208 Country Parks Ordinance'.
Oxfam Hong Kong will NOT provide a Country Park Permit for any participant or Support team.