Oxfam Trailwalker 2016 eNewsletter
Content of eNewsletter
---
Fundraising Kits
Fundraising Target
Remember: you are joining Oxfam Trailwalker to help people fight against poverty! Set a feasible target for your team.
Online Fundraising Tools
Manage your fundraising team page – You can fundraise online, track your fundraising record and thank all of your donors wherever they are.
Online Donation Guideline – Our handy PowerPoint presentation will help you learn how to fundraise, while our Online Donation Guidelines can be used to teach your donors how to conveniently make their donations online.
Offline Fundraising Tools
Information Pack – This will give you more information about the event as well as sponsorship details. You can download this resource from the Oxfam Trailwalker website or collect it at Oxfam Hong Kong's office.
Note for Sponsorship and Sponsorship Form – Download and print these materials at your convenience to help you fundraise.
All teams that join Oxfam Trailwalker 2016, besides Pledge Teams, (including teams that are absent / withdraw on the day of the event) must raise a minimum sponsorship of HK$7,200 , except for Pledge Teams which must raise at least HK$70,000. Oxfam Hong Kong reserves the right not to accept applications for future Oxfam Trailwalker events from any member of a team who has failed to raise the minimum amount.
Promotional & Communication Materials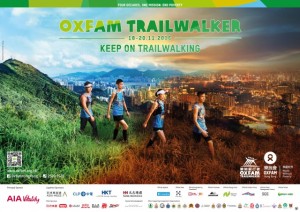 2016 Event Poster – Download our 2016 poster and post it up at your workplace, school or home!
Facebook – Join us and invite your friends to like our Trailwalker page so you can all receive the latest updates!
Youtube Channel – Share exciting footage with your family, friends and colleagues no matter where they are!
Have more fundraising ideas in mind? Share them with us by sending an email to otwinfo@oxfam.org.hk or leaving us a comment on our Facebook page! Keep up the good work and know that every little bit of effort you put into this Trailwalker will help those living in poverty!
---
Change Team Members Deadline on 26 October
Please be reminded if your team wants to activate its fundraising team page or to change any team member, please login at our Online Registration System and make any changes by 26 October!  Our system will be closed on 26 October.
If any change is still required after 26 Oct, please fill in the  Change of Team Member Form and pay a fee of HK$200 for each member changed and return them to Oxfam Hong Kong by post or by hand (17/F, China United Centre, 28 Marble Road, North Point, Hong Kong, North Point MTR Exit A4)
Notes for changing your team members
In the interests of fairness, team leaders in the Open Team Category (via lottery) CANNOT be changed. Change of team leader will result in disqualification of the whole team.
The change of member fee is non-refundable. It cannot be regarded as a donation and is not tax-deductible.
Oxfam Trailwalker is a challenging team event. Participants are strongly recommended to have adequate time for training and team-building before the event. Please avoid changing team members in the last month before the event.  Changing team members at the start of the event is also not advised.
You can change your team member(s) during the following periods:
Phase
Fee
Period
Procedure
Submission of Particulars of Confirmed Team Members
Free
7 June to 26 October
Submit team members' details on Oxfam Trailwalker website, or fill in Registration Form and fax, email or post to Oxfam Hong Kong
Late Change of
Team Member
HK$200 per new member
27 October
to 15 November
Fill in the  Change of Team Member Form and submit together with the payment record to Oxfam Hong Kong by post or by hand
Changing Team Member
on Event Day
HK$500 per new member
18 November
Fill in the Change of Team Member Form and pay the fee in cash on site
* Teams can pay the Change of Team Member Fee (HK$200 for each new member) into Oxfam Hong Kong's bank accounts listed below:
 
HSBC A/C no.
Hang Seng Bank
 Bank of China A/C no.
Deposit at a bank branch
(Please inform the teller of your team number)
Donation via Teller Service is not available
284-401080-010
 012-874-0-013039-1
Through ATM or E-Banking *
001-1-331857
284-401080-010
 012-874-0-013039-1
Please write your team number and leader's name on the original copy of the deposit slip or the printed copy of the online transfer Acknowledgement Note, and submit it together with the completed Change of Team Member Form to Oxfam Hong Kong by post or by hand. Please mark on the envelope "Oxfam Trailwalker 2016 Change of Team Member" and your team number. Cash or cheques will not be accepted. Deadline: 15 November 2016 (according to the postmark).
---
Finish Point Accommodation Application 
Part of the hostels in Po Leung Kuk Jockey Club Tai Tong Holiday Camp will be available for rental by Oxfam Trailwalker 2016 registered teams, their support teams and friends. Rooms are very limited, interested teams please fill in  the accommodation application form
And  return it to Oxfam on or before  6:00pm on 25 October  (Hong Kong Time) by email or fax. Applications will be processed on a first-come, first-served basis. Please note that we do not accept applications by post. Applicants are alerted that some of the newly built hostels located inside the Leadership Training Base Building are far away from the Finish Hall and it takes about 10-15 mins (properly more for those just finishing 100km!) to get there.  Make sure you read all the rules and terms on the application form before submitting the application.  For the location of the hostels, please refer to application form.  Please email to  otwinfo@oxfam.org.hk  for enquires.
---
Special Notes for Collecting Sponsorship
We would encourage you all to utilise the Fundraising Team Page for several reasons. Firstly, your family and friends will be able to make online donations and leave encouraging messages to your team. Secondly, your sponsors can also choose to print out a tax-deductible receipts (For Hong Kong tax payers only),so there is no need to record donations on sponsorship forms and send them to us! Thirdly, you will be able to reduce our administrative costs, which means that even more of the funds you raise and our time can go into fighting against poverty. And finally, it is easy to use. So what are you waiting for? Create a page for your team now!
To send us the donations you raised, please write "Oxfam Trailwalker 2016", your team number and each team member's full name in English on the back of all the original copies of the deposit slips, the printed copy of the online transfer acknowledgement note and all cheques, then submit these with the sponsorship form (sponsors' names, needed for tax deduction claims in Hong Kong, must be written correctly) by post or in person to Oxfam Hong Kong on or before 20 December 2016 (dated according to the postmark). Writing the wrong team number will result in crediting your sponsorship to another team!
You MUST photocopy all of your sponsorship records. Don't destroy the copies until you have received all the receipts. Receipts will be sent to the team member whose name is on the sponsorship form or corporate coordinator. If your mailing address has changed, please contact Oxfam Hong Kong.
To reduce administration costs, the tax deduction receipts* will only be issued for donations of HK$100 or above. For more information about sponsorship and receipting, please read P.27-29 of the Information Booklet or click here.
---
Raise over $32,000 for a Chance to win Asia Miles or DCH Food Mart Coupons
Asia Miles
Asia Miles Limited, one of our Logistics Sponsors, has donated a total of 1,000,000 Asia Miles. 10 teams will be awarded this prize (100,000 Asia Miles per team).
DCH Food Mart Coupons
Dah Chong Hong Holdings Limited has donated DCH Food Mart coupons, worth a total of HK$60,000, which will be awarded to another 15 teams (coupons valued at HK$4,000 per team).
Teams that raise HK$32,000 or more by 20 December 2016 are eligible to enter our lucky draw. The awarded prize will be evenly shared by the four registered members of each winning team. The right to enter the lucky draw will be forfeited if the team cannot submit all proof of donations to Oxfam Hong Kong on or before 20 December 2016 (dated according to the postmark). Late submissions, as well as those who have received or deposited their sponsorship money or cheques on or before 20 December 2016 but have not submitted proof of donations to Oxfam Hong Kong by the same date, will not be considered for the lucky draw. For details of the awards, please refer to the announcement on the Oxfam Trailwalker website.
---
Redeem an Asia Miles package to support Oxfam Trailwalker
As long term charity partners, for the first time ever Oxfam Hong Kong together with Asia Miles will offer limited time – between 8 August and 20 November 2016 – redemption packages for Oxfam Trailwalkers  to donate to people in rural areas much needed items such as a "cow", "road" or a "meal and safe haven". 
Upon redemption, you will also receive a confirmation letter to acknowledge your generous support.
Please be sure to support this new and fun initiative and share the Asia Miles iRedeem link with family, friends and your Oxfam Trailwalker supporters
Items available for iRedeem
---
Fundraising Awards
Teams taking part in Oxfam Trailwalker 2016 that raise HK$32,000 or more will take priority in registering for Oxfam Trailwalker 2017 as Special Teams. Any team or organisation which that raises over HK$70,000 will be acknowledged in the Oxfam Trailwalker 2016 Thank You Advertisement that will be published in newspapers.
Moreover, the following awards will be presented to the top fundraising teams:
Category Fundraising Awards – Awarded to any team or organisation that raises the most funds (over HK$200,000) in each category.
Outstanding Fundraiser Awards – Awarded to teams that raise HK$100,000 or more.
Outstanding Online Fundraiser Award– Awarded to the team that raises the most funds online.
Recipients of these awards will be invited to attend the Oxfam Trailwalker 2016 Prize Presentation Ceremony, which will be held on 17 February 2016.