AIA Vitality – Dare to Challenge Award
AIA International Limited is committed to promoting healthy living, because healthy and dynamic communities lay the foundation for sustainable development. The Oxfam Trailwalker is an example of this – a 100 km trail to be completed within 48 hours; never an easy challenge. As well as being committed to countless training sessions, walkers also need extraordinary stamina, willpower and support from teammates and friends. This award aims to reward the team who joins Oxfam Trailwalker for the first time and demonstrates the highest motivation and determination to complete the event. The winning team will receive a HK$5,000 cash reward. AIA International Limited will also donate HK$50,000 to Oxfam to support our poverty alleviation programmes and emergency relief work around the world. The winning team will earn a priority spot to participate in Oxfam Trailwalker 2017.
Eligibility & Application
To qualify, all four team members must be new to Oxfam Trailwalker (subject to verification). They must then register for the event by 19 September and upload their own team story about preparing for Oxfam Trailwalker to a specified social media. Suggested content includes training, change of lifestyle, diet, physical improvement, team building, etc. The team must also complete the entire 100 km trail during the event. We will decide on a winner in December.
LINK TO Online Enrollment Form
Winner of the 2015 AIA Vitality – Dare to Challenge Award: 毅行熱血-BTC跑山友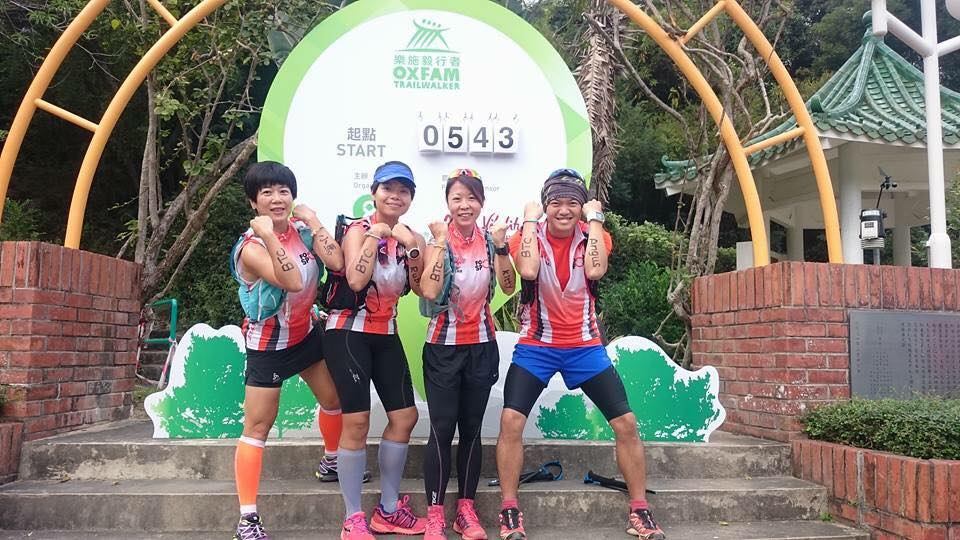 What changes have Ponly, Ruby, Angus and Mei Yan experienced after their first time taking up the Oxfam Trailwalker challenge?
The Trailwalking spirit:
The journey was anything but easy, but we never gave up. We were also encouraged by the tremendous support our friends and family gave us!
Health check:
After 17 hill training sessions and walking the 100 km, our team's weight as a collective dropped from 511 pounds to 491 pounds!
Eating healthy:
In order to become a Trailwalker, we decided to eat healthier by cooking ourselves or eating the lunches our moms made 😀